Seattle food
I've been remiss in posting because I went to Seattle from Wednesday to Monday (photos). It was an awesome trip, a really fun time with Ian and family. Susie's wedding was just right in so many ways. And… we ate a lot of food. Yummy food!
Here are some (!) of the places we went:
Six Seven restaurant on the waterfront, for the 25 for $25 thingie. For my dinner, I chose:
Cold Smoked Salmon with Hearts of Palm and Arugula Salad, Lemon Chive Vinaigrette
This was going to be good because there is no part of it that was even remotely questionable in its deliciousness. And it was very tasty, although a little lacking in the texture department… slimy and a little cold-tasting.
Ricotta Tortellini with Nutmeg, Roast Abalone Mushroom and White Grape Onions
YUM. The best part of this was the abalone mushrooms, which, when I first bit down on a cube, I thought were nuggets of pure fat. Nothing like mushrooms that taste like pure fat!
Chocolate Pot au Crème with Espresso Geleé and Chocolate Tuille
"Pot of cream"!!! This was so delectable that it made me really sad that it's rude to lick your plate at nice restaurants :(
Blue C Sushi (in University Village)
Great conveyor-belt sushi, and not expensive. They charge by the subway-line-coded plates. This place is super Tokyo-d out, with videos of Shibuya and Roppongi Hills flyovers projected onto the walls, authentic subway announcements audible from the bathroom stalls, and even those special high-speed hand dryers they have in Japanese restrooms! (boingboing post about those dryers) I had two cream puffs for dessert the first time we went there.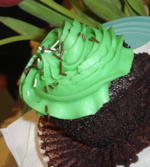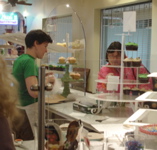 Trophy Cupcakes made the cupcakes for Susie's wedding. They have peanut butter and jelly cupcakes and, for St. Patrick's Day, Guinness cupcakes with green Bailey's icing. And they have normal flavors too. The cake is super-moist and even the huge amounts of icing are highly appetizing.
When I showed Jennifer the Fresh Flours website, she could immediately tell that the baker was Japanese. ("I know my Japanese muffin papers!") Ian and I split a chocolate croissant and a red azuki bean bun, and I had an Earl Grey with the fattest (hand-packed!) tea bag I've ever seen.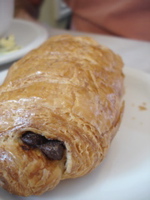 Tutta Bella Neapolitan Pizzeria
Big family dinner here. My favorite was the Lasagna pizza ("Pomodoro San Marzano, rosemary ham, fresh ricotta and mozzarella, fresh basil, Grana Padano." Pomodoro Grana… molto buccismo… TASTY!)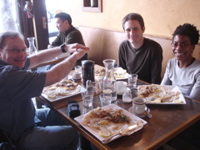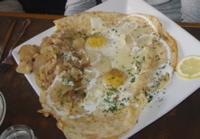 I had a phase when I hated crépes, but I think that was because I had some that tasted like puke when I was a kid. Now, I like them! I had "[something] d'oeuf", which was a huge crépe with two eggs sunny-side up, Gruyére, and spiced potatoes on top. Also had the best coffee I had in Seattle (from Vivace), served in a French press, with cream in a little glass jar.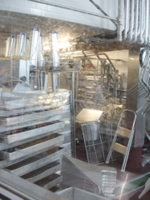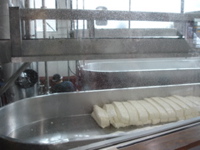 These fine cheese people have an open view to their cheese-manufacturing bonanza along the side and back of the shop.
Pike Place Market
All I ate here was dried strawberries and a sample of the pickled asparagus (for Bloody Marys). And I saw a little fish-throwing.
Places for next time:
Salumi Artisan Cured Meats
Cupcake Royale
One Comment
Leave a Reply