Lightning and thunder (and tweeks, sferics, and whistlers)
The sound that comes from lightning sounds the way it does – a crack followed by a rumble – because the high frequency sounds from the explosion travel more quickly through the atmosphere than the lower frequency sounds. This is called "dispersion" ((http://www.physics.uoguelph.ca/summer/scor/articles/scor163.htm — best link if you're just going to read one of these)). It's the same phenomenon that you see in optics when light gets split through a prism.
The farther you are from the lightning, the more low frequency sound you will hear in the thunder ((http://www.madsci.org/posts/archives/nov99/943317470.Ph.r.html)). This is due to both dispersion, which attenuates the high frequencies more ((http://www.physics.uoguelph.ca/summer/scor/articles/scor163.htm)), and diffraction, which helps low frequency sounds "bend around" obstacles better than high frequency sounds ((http://hyperphysics.phy-astr.gsu.edu/hbase/sound/diffrac.html)), so they can travel farther.
Radio waves are affected by dispersion as well. While reading about lightning and thunder, I stumbled across this amazing thing: very low frequency (VLF) radio receivers for the Earth's natural radio emissions. The sound samples on this page are really cool.
This is crazy stuff. You can listen to a live VLF audio stream through the NASA online VLF receiver.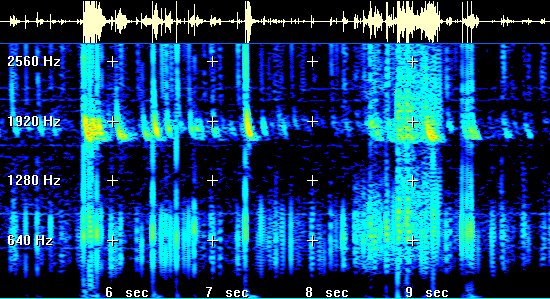 2 Comments
Radiolariax replied:


Interesting site:
Signal and wave hunting
http://www.freewebs.com/radiolariax
The hunt for weird radio signals and other electromagnetic waves with small, cheap modified radios, cassette players, walkie-talkies, mp3 players,
dictaphones, babyphones, pc speakers, vacuum cleaners and particle accelerators.

June 25th, 2009 at 3:54 am. Permalink.
Leave a Reply