I had a "micro sundae" for the first time at Toscanini's yesterday. [Man, the number of times I write about that place, you'd think I go there every day or something… :)]
A micro sundae is a mini-scoop of any flavor ice cream you like, squished into an espresso cup (or a Dixie cup, if it's To Go), then covered with hot fudge, then real, sweetened whipped cream (the beige, clumpy kind).
I had mine with cookies and cream ice cream.
I was "without camera" at the time, so here are my flickr findings on Toscanini's micro sundaes (thank you, mossybaby and chessie monks!):
I think I'd prefer a micro sundae from Tosci's to a Serendipity Golden Opulence Sundae any day.
I'm in Austin, land of huge grocery stores, and yesterday I was in the local H-E-B with my dad and sister. In the produce section, I noticed these:

My dad explained that they were a mix of apples and grapes, that resulted in "an apple… that tastes like a grape". But I picked them up to have a closer look… They were normal Fuji apples, and they smelled distinctly like artificial grape flavor (just like grape soda). We were both slightly horrified at the smell, and were wondering how they are made. The Grapple website (nice site!!) provides little information:
How Is A Grāpple® Brand Apple Made?

Grāpple® brand apples begin as Washington Extra Fancy Fuji Apples. Of all apples this is the one that takes on the grape flavor best.
This Patent Pending process is complex and the ingredient mix primarily includes concentrated grape flavor and pure water. All ingredients are USDA and FDA approved and the process has been licensed by the Washington State Department of Agriculture.

There is nothing but flavor being infused into the Fuji apple. The apple takes on no additional sugars or calories. They are not genetically altered in any way.
The apple is as healthy as ever but now has the new exciting grape flavor.
The Wikipedia says that they are Fuji apples soaked in artificial grape flavoring.
It's a little scary that we feel we have to make our juicy sweet apples more appealing to kids by making them taste and smell like grape flavoring.
Yesterday was my first relaxing day in a long time (I've been finishing up my semester). It started off with one of the best meals I've ever had, in Boston's North End. My friend John has been telling me all year about a pastry shop there that has biscotti that "could possibly rival your mom's." He's wrong, but! I love pastries, and there was no way I was going to let him move away without first going to Modern Pastry together.
Around noon, we took the T up to the Government Center stop on the Green Line, and wandered up to Hanover Street (check out those nice 3-D buildings on Google Maps). Wandering around, I finally felt I was in a part of Boston with some real personality… people sitting at tables along the streets muttering in Bostonese, big trucks parked in very narrow roads with people busily unloading food-related items, cops on horseback…
I could go on but I'm just going to cut to the chase and talk about the food. We just wandered into a restaurant that looked nice and cozy, called Trattoria il Panino. When the waitress told me the special was a risotto with artichoke hearts, truffles, and buffalo mozzarella, there really was no way I was not going to order it. Here it is: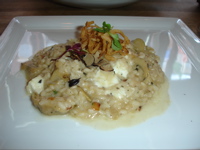 Amazingly delicious. Just thinking about it now makes my leg twitch. So creamy, the artichokes were cooked perfectly, and the flavor of the truffles and the crunch of the onions… omfg. I think that perhaps they have some very handsome children in the back, crying three tears into every serving. And, only $15! ("Maybe I really could eat this every single day.")
On an infinitely less important note, John got a crab with linguini in it, and extra utensils: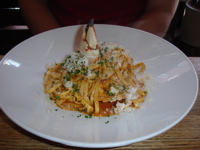 Dessert was, as promised, at Modern Pastry. I asked what was the most popular dessert, and the girl immediately said "cannoli". So I got a chocolate-dipped one with sugar on top. It was tasty, and my fingers smelled awesome all day after that.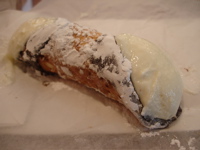 Today was awesome.
I met a fun guy named Ned Gulley, who works at Mathworks. He showed me this great thing: Fermat's spiral. He introduced me to the spiral by pointing out that KrazyDad did some amazing musical visualizations using this pattern. You definitely should look at these two in particular, to see the pattern at work:

Whitney Music Box
(This reminds me of the Electroplankton Nintendo DS game.)
Fibonacci Logos screensaver from this post: "The motion in this screensaver is actually quite simple — if you look at each disc, you'll see that it is just sitting in place, rotating at a constant rate. However, each disc spins slightly faster than the next largest one, which produces a series of very interesting patterns over about a 10 minute cycle."

Very cool. Thank you, Ned!

After dinner with my group, we went to one of the most comfy places in Cambridge, Toscanini's ice cream, and I got the best flavor: ginger snap molasses. I asked my favorite ice cream guy how many scoops of ice cream is in each one of those big tubs. He said, "Well, I'm not totally sure… but… there are usually about three gallons of ice cream in each one… and each scoop is 6 ounces. '2 scoops' is 8-10 ounces."

First off, "2 scoops" ain't 2 scoops! Who knew. (…although "2 scoops" doesn't cost twice as much either, so I'm not complaining.)

I told him I would figure out how many scoops were in a tub and let him know. After some argument at the table over how many cups/ounces/monkeys are in how many gallons, we decided that the answer is about 75 scoops. (128 oz. x 3 gallons / 5 oz. = 75. ish.)

Sailing and learning to sail at MIT are FREE! I hope to try it out this summer.
Sadly, I don't have time to write much today. But I *did* eat asparagus with dinner, and my pee smells obnoxious. I poked around online to see why, and here's my favorite answer (even so, not so satisfying an answer):
The Straight Dope: Why does asparagus make your pee smell funny?
…Benjamin Franklin, in a wide-ranging discussion of bodily discharges, once noted, "a few stems of asparagus eaten shall give our urine a disagreeable odor; and a pill of turpentine no bigger than a pea shall bestow upon it the pleasing smell of violets."

It is said that in a venerable British men's club there is a sign reading "DURING THE ASPARAGUS SEASON MEMBERS ARE REQUESTED NOT TO RELIEVE THEMSELVES IN THE HATSTAND."
(…And I'm still wondering how it can start smelling so bad so quickly! Today must have been 10-15 minutes.)
I eat a banana every day, and I am always trying to optimize the combination of ripeness of the bananas that I buy. I often buy a couple of totally yellow ones, along with a few green ones for after I've eaten the yellow ones. But I totally misjudge them sometimes and end up eating a brown mush, or a hard, almost bitter thing that I can hardly get the skin off of.
Below, I've copied some snippets of info I found on ripening fruits. A lot of people know this stuff already, but I didn't think to keep bananas in the fridge, and I can never remember which fruits continue ripening (i.e., which ones you can still have hope for) and which ones are WYSIWYG.
From Why do some fruit ripen only on the tree and others ripen only after they are picked?:
Bananas when harvested mature have very high levels of starch (like a potato). During ripening this starch is converted to soluble sugars and that is why they taste sweeter when they are ripe. The hormone ethylene is normally used to trigger ripening in bananas (and also avocados) by applying ethylene gas into a ripening room for a period of time. The application of ethylene gas helps to reduce fruit to fruit variability in ripening time as well shortening the overall ripening time.
The avocado and banana are classified as climacteric fruits whereas the pineapple is classified as a nonclimacteric fruit. Nonclimacteric fruit do not exhibit the increase in respiration nor the rise in ethylene production nor do they normally undergo dramatic changes (such as softening) after harvest.
(from Howstuffworks "Health Benefits of Fruits…")
Fruits that will continue to ripen [climacteric]:
Apricots
Avocados
Bananas
Cantaloupe
Kiwi
Nectarines
Peaches
Pears
Plums
Tomatoes
Fruits to buy ripe and ready to eat [nonclimacteric]:
Apples
Cherries
Grapefruit
Grapes
Lemons
Limes
Oranges
Pineapple
Strawberries
Tangerines
Watermelon
From "Fruit Ripening":
How can you assist fruit ripening? First let me tell you that bananas are shipped to the US as hard, green, sour, unripened fruits. They ship better that way. They arrive into a distributor's warehouse without bruises. The bananas are put in a room and gassed with ethylene. They all begin to ripen. You buy them at the store and within a few days the ripening process is so rapid that the bananas are "over the hill" before you can eat them all.

By the way, you can allow the bananas to ripen to the stage you like them and then put them in the refrigerator. This slows the ripening process down drastically. For several days after that you can take bananas from the refrigerator and enjoy the fruit inside. Please note: the skin will turn very dark in color after only a short time in the refrigerator…you can ignore that…the fruit inside remains just as it was before you put the banana into the refrigerator.

The ripening bananas produce so much ethylene that you can use them as a tool to ripen other fruits. Take those green pears home and put them on the shelf in a paper bag with a banana. The banana at room temperature produces ethylene that will signal the green pears to start ripening immediately. The paper bag holds the ethylene in stagnant air around the fruits, yet allows oxygen to go into the bag for respiration in the fruits…needed to make the enzymes! In just a few days the pears should be ready to eat! You can do the same with avocados.
Ian and I both made the New York Times meatballs today. Here's the recipe, which was at the top of the Times's Most-Emailed list for a week: Italian Meatballs

They were great. Nice and crispy on the outside, juicy on the inside. (And the leftovers!) If they sound tasty to you, I encourage you to make them – it's fun to mold the balls and get your hands all messy.
[ For dessert, I recommend Molten Lava Cakes, which are really really easy and as wonderful as they sound. I just made a third of the recipe, for two cakes, and left out the orange liqueur. The mixture can sit for days in the refrigerator, so you can save some poured into dishes, and cook one the next day you want one in just ten minutes (that's all the time it took to make them in my oven). ]
I want to make nicer food. Even for the normal stuff, like sandwiches. I decided I'll start with this recipe I found today for Prosciutto, Mozzarella, Tomato, and Basil Panini.
One of the ingredients I'll need is balsamic vinegar, which, strangely, I don't have already. So I bought some at the store today. And I found myself in that familiar position of recently having read an article rating The BEST "X"! (in this case, "balsamic vinegar")… I inevitably will remember the best and worst product, but not which one is which. I lucked out today and bought a balsamic that comes "Recommended" by Cook's Illustrated: Monari Federzoni Balsamic Vinegar of Modena!
I decided, for the second time, that Toscanini's "ginger snap molasses" is one of the best flavors of ice cream I've ever had. The key to awesome ice cream is that it have HUGE chunks of cookies in it. Behold, my scoop last night!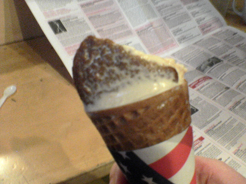 I've been remiss in posting because I went to Seattle from Wednesday to Monday (photos). It was an awesome trip, a really fun time with Ian and family. Susie's wedding was just right in so many ways. And… we ate a lot of food. Yummy food!
Here are some (!) of the places we went:
Six Seven restaurant on the waterfront, for the 25 for $25 thingie. For my dinner, I chose:
Cold Smoked Salmon with Hearts of Palm and Arugula Salad, Lemon Chive Vinaigrette
This was going to be good because there is no part of it that was even remotely questionable in its deliciousness. And it was very tasty, although a little lacking in the texture department… slimy and a little cold-tasting.
Ricotta Tortellini with Nutmeg, Roast Abalone Mushroom and White Grape Onions
YUM. The best part of this was the abalone mushrooms, which, when I first bit down on a cube, I thought were nuggets of pure fat. Nothing like mushrooms that taste like pure fat!
Chocolate Pot au Crème with Espresso Geleé and Chocolate Tuille
"Pot of cream"!!! This was so delectable that it made me really sad that it's rude to lick your plate at nice restaurants :(
Blue C Sushi (in University Village)
Great conveyor-belt sushi, and not expensive. They charge by the subway-line-coded plates. This place is super Tokyo-d out, with videos of Shibuya and Roppongi Hills flyovers projected onto the walls, authentic subway announcements audible from the bathroom stalls, and even those special high-speed hand dryers they have in Japanese restrooms! (boingboing post about those dryers) I had two cream puffs for dessert the first time we went there.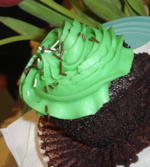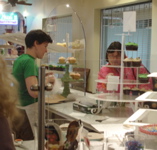 Trophy Cupcakes made the cupcakes for Susie's wedding. They have peanut butter and jelly cupcakes and, for St. Patrick's Day, Guinness cupcakes with green Bailey's icing. And they have normal flavors too. The cake is super-moist and even the huge amounts of icing are highly appetizing.
When I showed Jennifer the Fresh Flours website, she could immediately tell that the baker was Japanese. ("I know my Japanese muffin papers!") Ian and I split a chocolate croissant and a red azuki bean bun, and I had an Earl Grey with the fattest (hand-packed!) tea bag I've ever seen.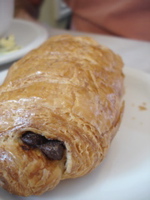 Tutta Bella Neapolitan Pizzeria
Big family dinner here. My favorite was the Lasagna pizza ("Pomodoro San Marzano, rosemary ham, fresh ricotta and mozzarella, fresh basil, Grana Padano." Pomodoro Grana… molto buccismo… TASTY!)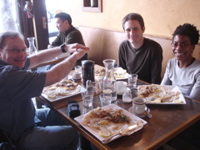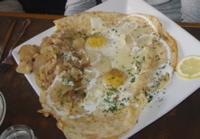 I had a phase when I hated crépes, but I think that was because I had some that tasted like puke when I was a kid. Now, I like them! I had "[something] d'oeuf", which was a huge crépe with two eggs sunny-side up, Gruyére, and spiced potatoes on top. Also had the best coffee I had in Seattle (from Vivace), served in a French press, with cream in a little glass jar.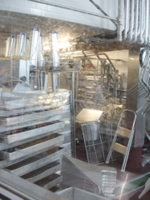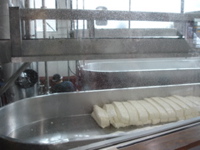 These fine cheese people have an open view to their cheese-manufacturing bonanza along the side and back of the shop.
Pike Place Market
All I ate here was dried strawberries and a sample of the pickled asparagus (for Bloody Marys). And I saw a little fish-throwing.
Places for next time:
Salumi Artisan Cured Meats
Cupcake Royale