Talking Mylar balloons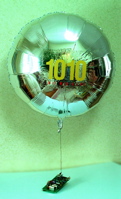 The topic today in sensors class was piezoelectric sensors. Joe P showed us a wonderful application for them: as both a microphone and speaker in a Mylar balloon.
The Responsive Environments Group has a page on the project:
Interactive Balloons
There is a great video on that page: Joe talking to a balloon, and then two balloons talking to each other.
No Comments
Be the first to comment!
Leave a Reply