If you want a tasty project, try making these Chocolate Chocolate-Chip Cookies With Mocha Cream Filling. We made them for the game night last Friday. They are: scrumptious.
I love watching patterns form in a hot cup of coffee or tea. You see deep swirls when liquids mix, and funny arrangements coming alive on the surface.
Yesterday morning, my tea was doing something really weird. There were tiny micro-bubbles on the surface, forming and popping rapidly in the shape of tree branches. What's going on here? Are there branchy fractals on the surface of my Throat Coat?
These videos are in real-time.
Teacup 1 (QuickTime, 3.2 MB)
Teacup 2 (QuickTime, 1.6 MB)
I was browsing the "Gourmet Food" department on Amazon, and came across this lovely product: NORTH AMERICAN SALT 56050 "SAFE STEP" ICE MELTER
Mmmmmm…
And it's even "Safe-to-use around pets and children."
On a brighter and more mouthwatering note, just look at all the salt you can get at Amazon!
I made this delicious creamy phyllo, raisin and nut pudding ("om Ali" ((This name always makes me end up singing… "Come on Eileen"!)) ) for a friend's birthday dinner on Saturday. This dish is awesome because:
It is a pudding.
It uses orange blossom water ((If you live in the Boston area, you can buy this at Christina's Spice & Specialty Foods in Inman Square.)), which smells beautiful. Your house will smell like orange blossom water as the pudding bakes, and, really, this is worth it even if you don't get to eat (all) the pudding.
Beforehand, I was standing in Trader Joe's, looking for blanched almonds for the pudding, but they didn't sell any. After a quick poke, the helpful TJ's employee told me I could blanch my own. So I left the store with a bag of whole, unsalted, raw almonds.
Blanching them was very simple, but a little tedious. One minute under boiling water, and the skins come off with some tugging. (I followed these instructions.) It was slow-going; I think it took me almost 15 minutes to do 1/4 cup of almonds.
Check out my noodles. They're bigger than your noodles.
Tonight for dinner I had Trader Joe's Punjab Eggplant, which had the distinct characteristic of spiciness that makes my throat itch. There should be a name for food with this trait… spitchy? prickled? irritasty?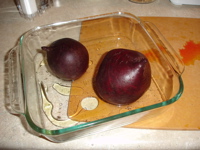 I just cooked beets for the first time. I've been wanting to cook them myself ever since I walked into my friend Deborah's house a year ago and saw them boiling on the stove. It seemed so incredibly organic and healthy. So, yesterday in Whole Foods, I picked up a couple of firm, (slightly) muddy beets, and decided to have at it.
I baked/steamed them with a little water, olive oil, salt, and pepper, as described on the Whole Foods website:
Roasting beets concentrates the flavor and retains nutrients. For dry roasting, wrap individually in foil and bake at 375°F to 400°F for 45 to 90 minutes depending on size. Alternatively, place beets in a baking pan with a little oil, salt and pepper, add 1/4 to 1/2 inch of water in the bottom of the pan and cover the pan with foil. When done, a knife or fork should be able to pierce them with little or no resistance. Allow them to cool and peel off the skins by rubbing with a paper towel. Beet juice can stain your hands so you may want to wear disposable kitchen gloves.
My small beet took one hour, and the larger (about the size of my fist) an hour and twenty minutes. The skins peeled off nicely, and I chilled the naked beets in the fridge before slicing them up.
And.. they are delicious! Even with nothing else added. I'm having them on my salad tonight.
Behold, the carnage:
In honor of getting to see Benoît Mandelbrot speak yesterday at IBM in Cambridge, and of his mention of the crazy-cool cauliflower/broccoli mix romanesco, I tried to draw a 2-D version of the fractal veggie in Processing. I wanted to project it onto cones, but I just don't have the time right now.
This is a fractal-like thing I made up from Fermat's spiral and discs, which I've been playing around with lately.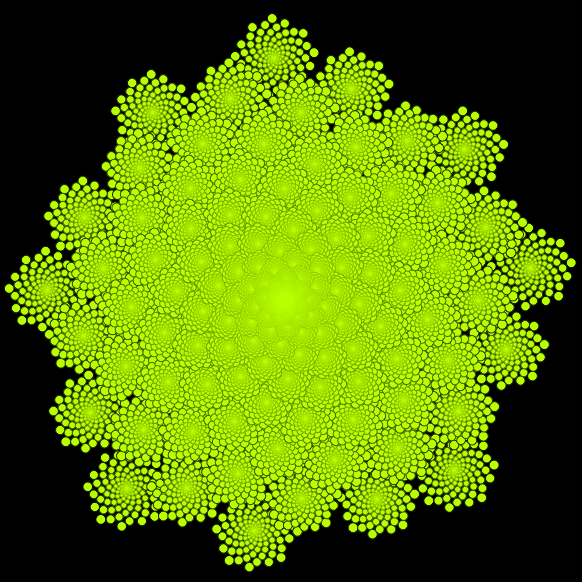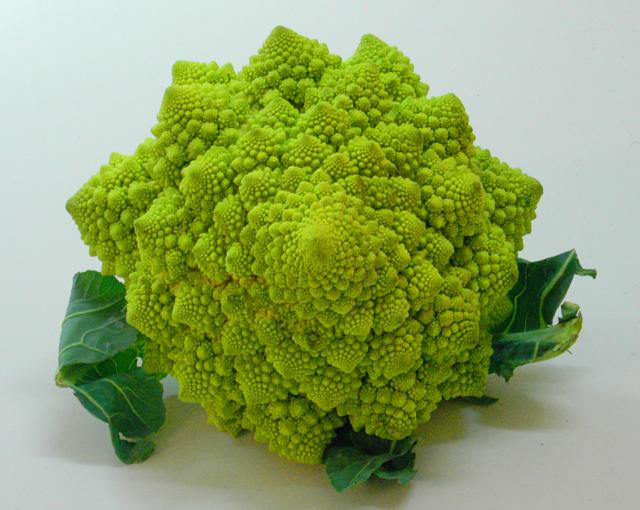 Another really nice photo of romanesco
Nice collection of photos and commentary on romanesco and fractals
Sharon took me to my new favorite breakfast place in the Boston area on Sunday. We'd been on a (geographically-)challenging mountain bike ride all afternoon, and we were hungry.
I'd suggested earlier in the week that some "breakfast/brunchy food at a local place" would be good, hoping she'd suggest something, and sure enough, in the long list of hand-written directions was "Neighborhood Restaurant".
A: Awesome, Sharon, you even picked a neighborhood restaurant!
S: It's actually called Neighborhood Restaurant. It's in Somerville. My friends have told me it's good…
A: *grin*
I knew the place was good when we parked across the street and were immediately able to sit outside on the patio, which is covered with grape-bearing grapevines, decorated with almost gaudy lawn animals, and a Betty Boop. I recognized the plate on a nearby table as the exact same $1 rainbow plate I have from Shaw's, and none of the other plates around matched it or any other. Down a steep, brightly-colored staircase, through a truly bustling, Hispanic-sounding kitchen ("Is that Spanish?" It was probably Portuguese.), is the bathroom, which had been both carefully painted with pixies and had the "EMPLOYEES MUST WASH HANDS!! AND YOU SHOULD TOO!!" hand-painted directly on the wall in front of the toilet, probably in red paint on a pink background.
#100 on the menu was the first I read: (in loopy handwriting) "Belgian waffle, topped with blueberries, strawberries, and raspberries, and our homemade whipped cream, with two eggs, ham, and homefries, oj + coffee." With a side of fruit or cream of wheat. $10.99
So of course that's what I got, even though I tried to remember the next 7 things I read, for next time.
I didn't have a camera with me, and that's probably best, since I'd make myself way too hungry if I saw what I ate again. But! Just to convey the true quantity of food that I got, I have diagrammed it out in OmniGraffle (wow, what a nice program):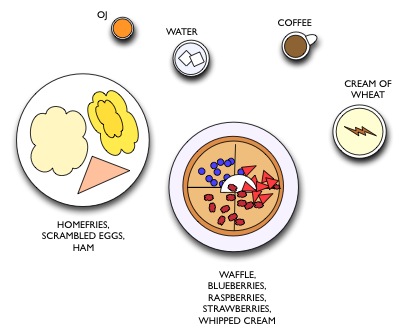 (PDF)
The cream of wheat has cinnamon sprinkled on top, and is as good as the place is famous for. The place doesn't skimp on anything. The ham was juicy, the eggs and potatoes were tasty, the fruit was fresh and plentiful, and the cream was real. Definitely can't wait to go back.
Flickr user sushiesque has some actual photos of the place:
More of sushiesque's photos of the Neighborhood Restaurant
Because these two things are true:
I want to end on a good one.
If I have a good one, I always want another.
Food by induction!