An article in yesterday's New York Times, entitled "Sweatology", talks about how important it is that we sweat. Sweat cools us off, yes. But the article also describes why different people sweat different amounts, and one factor is age.
"…beginning about age 60 both sexes sweat less, even if they are in good physical condition, and even if they become seriously overheated. Thus the statistics that during heat waves the elderly are at highest risk of heat stroke."
I didn't know I would sweat less when I get older. Maybe this means I should move to Florida now, and retire to San Francisco when I'm 60, instead of the other way around. And perhaps that I should spray my father intermittently with a misting bottle during his visit to Boston this week. Happy 60-plus-2-weeks, Dad!
I'm in Austin, land of huge grocery stores, and yesterday I was in the local H-E-B with my dad and sister. In the produce section, I noticed these:

My dad explained that they were a mix of apples and grapes, that resulted in "an apple… that tastes like a grape". But I picked them up to have a closer look… They were normal Fuji apples, and they smelled distinctly like artificial grape flavor (just like grape soda). We were both slightly horrified at the smell, and were wondering how they are made. The Grapple website (nice site!!) provides little information:
How Is A Grāpple® Brand Apple Made?

Grāpple® brand apples begin as Washington Extra Fancy Fuji Apples. Of all apples this is the one that takes on the grape flavor best.
This Patent Pending process is complex and the ingredient mix primarily includes concentrated grape flavor and pure water. All ingredients are USDA and FDA approved and the process has been licensed by the Washington State Department of Agriculture.

There is nothing but flavor being infused into the Fuji apple. The apple takes on no additional sugars or calories. They are not genetically altered in any way.
The apple is as healthy as ever but now has the new exciting grape flavor.
The Wikipedia says that they are Fuji apples soaked in artificial grape flavoring.
It's a little scary that we feel we have to make our juicy sweet apples more appealing to kids by making them taste and smell like grape flavoring.
My sister, a PhD student at UC Berkeley, has just found an interesting item tucked in the back of a drawer in her recently-purchased buffet table. I asked her if she would write something about the experience, and she did (thanks, Jfer!).
I have to warn that there is some (creepy) sexual content to this story, though it remains mysterious, and it is mostly (excepting last photograph) Safe For Work.
To read the story: "in the buffet"
(Please know that this is not actually the best thing I learned today (it's a scary thing to learn), but, rather, the best story I heard all weekend.)
Scott and Susie are on their honeymoon in New Zealand, and today they SWOOPed!
I've been remiss in posting because I went to Seattle from Wednesday to Monday (photos). It was an awesome trip, a really fun time with Ian and family. Susie's wedding was just right in so many ways. And… we ate a lot of food. Yummy food!
Here are some (!) of the places we went:
Six Seven restaurant on the waterfront, for the 25 for $25 thingie. For my dinner, I chose:
Cold Smoked Salmon with Hearts of Palm and Arugula Salad, Lemon Chive Vinaigrette
This was going to be good because there is no part of it that was even remotely questionable in its deliciousness. And it was very tasty, although a little lacking in the texture department… slimy and a little cold-tasting.
Ricotta Tortellini with Nutmeg, Roast Abalone Mushroom and White Grape Onions
YUM. The best part of this was the abalone mushrooms, which, when I first bit down on a cube, I thought were nuggets of pure fat. Nothing like mushrooms that taste like pure fat!
Chocolate Pot au Crème with Espresso Geleé and Chocolate Tuille
"Pot of cream"!!! This was so delectable that it made me really sad that it's rude to lick your plate at nice restaurants :(
Blue C Sushi (in University Village)
Great conveyor-belt sushi, and not expensive. They charge by the subway-line-coded plates. This place is super Tokyo-d out, with videos of Shibuya and Roppongi Hills flyovers projected onto the walls, authentic subway announcements audible from the bathroom stalls, and even those special high-speed hand dryers they have in Japanese restrooms! (boingboing post about those dryers) I had two cream puffs for dessert the first time we went there.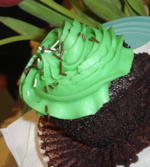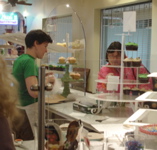 Trophy Cupcakes made the cupcakes for Susie's wedding. They have peanut butter and jelly cupcakes and, for St. Patrick's Day, Guinness cupcakes with green Bailey's icing. And they have normal flavors too. The cake is super-moist and even the huge amounts of icing are highly appetizing.
When I showed Jennifer the Fresh Flours website, she could immediately tell that the baker was Japanese. ("I know my Japanese muffin papers!") Ian and I split a chocolate croissant and a red azuki bean bun, and I had an Earl Grey with the fattest (hand-packed!) tea bag I've ever seen.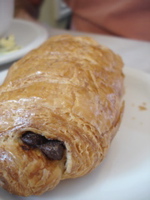 Tutta Bella Neapolitan Pizzeria
Big family dinner here. My favorite was the Lasagna pizza ("Pomodoro San Marzano, rosemary ham, fresh ricotta and mozzarella, fresh basil, Grana Padano." Pomodoro Grana… molto buccismo… TASTY!)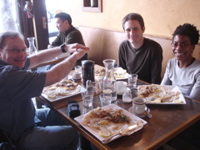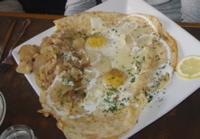 I had a phase when I hated crépes, but I think that was because I had some that tasted like puke when I was a kid. Now, I like them! I had "[something] d'oeuf", which was a huge crépe with two eggs sunny-side up, Gruyére, and spiced potatoes on top. Also had the best coffee I had in Seattle (from Vivace), served in a French press, with cream in a little glass jar.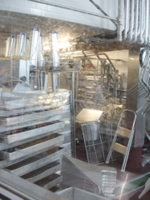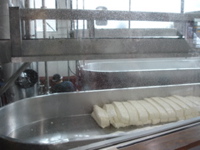 These fine cheese people have an open view to their cheese-manufacturing bonanza along the side and back of the shop.
Pike Place Market
All I ate here was dried strawberries and a sample of the pickled asparagus (for Bloody Marys). And I saw a little fish-throwing.
Places for next time:
Salumi Artisan Cured Meats
Cupcake Royale