Sepia is just that brownish color you can use to make your digital photos look old, right? Guess where the word comes from!
It's actually the Greek word for cuttlefish. ((from the Oxford American Dictionary))
sepia |ˈsēpēə| noun
a reddish-brown color associated particularly with monochrome photographs of the 19th and early 20th centuries.

a brown pigment prepared from a black fluid secreted by cuttlefish, used in monochrome drawing and in watercolors.
a drawing done with this pigment.
a blackish fluid secreted by a cuttlefish as a defensive screen.
(And indigo dye comes from a tropical plant of the pea family. ((Oxford English Dictionary, n. (a.))) )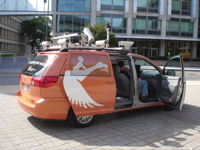 Tele Atlas held a workshop at the Media Lab today, and I got to go on a ride in one of their "mobile mapping vans". They drive up and down the streets of major cities and highways in this van, which is equipped with several cameras and laser range-finders on the roof, with a GPS receiver and a rack of memory on the inside. Tele Atlas uses the imagery and distance data to help enhance and texture their new 3D maps, which nicely represent the shapes and appearance of the buildings along the streets.
I climbed in next to the rack, in the only back seat, while my two friendly mapper-driver-dudes took me on a 5-minute ride around MIT, so that I could see the cameras in action. They have cameras on the roof, pointing to either side of the van, and two angled up at about 45º to get snapshots of taller buildings. They also have a "spherical" camera called a Ladybug, which has five cameras arranged in a ring, in a red housing. On either side of the roof are laser range-finders that map out the building layouts and shape as viewed from the road. (I love that the laser manufacturer is named SICK, and that they display this proudly on their devices.)
The guy in the passenger seat looks at maps and camera feeds on a pole-mounted laptop next to the seat, adjusting apertures and directing the driver to roads they have not yet covered. He'll also mark a road if it's under construction or one-way.
It seems slow-going; the van can't take measurements if it travels above 33 mph. This guy's been working with his partner to map Boston and Cambridge since the beginning of August. They'll finish in the next week or two, and then move on to another city. I asked him how long it takes to map an area, and he tells me, "It depends on the traffic… Yesterday it was really bad in the Back Bay and Brookline, so we only covered about 75 kilometers in 6 hours." On a good day, his best, they covered 170 km (106 mi).
Let the geo-nerditry commence!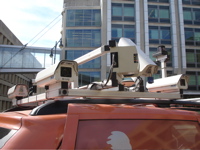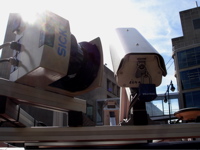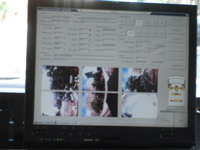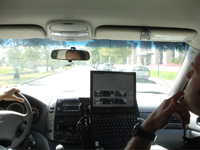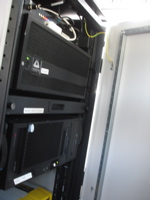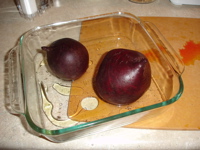 I just cooked beets for the first time. I've been wanting to cook them myself ever since I walked into my friend Deborah's house a year ago and saw them boiling on the stove. It seemed so incredibly organic and healthy. So, yesterday in Whole Foods, I picked up a couple of firm, (slightly) muddy beets, and decided to have at it.
I baked/steamed them with a little water, olive oil, salt, and pepper, as described on the Whole Foods website:
Roasting beets concentrates the flavor and retains nutrients. For dry roasting, wrap individually in foil and bake at 375°F to 400°F for 45 to 90 minutes depending on size. Alternatively, place beets in a baking pan with a little oil, salt and pepper, add 1/4 to 1/2 inch of water in the bottom of the pan and cover the pan with foil. When done, a knife or fork should be able to pierce them with little or no resistance. Allow them to cool and peel off the skins by rubbing with a paper towel. Beet juice can stain your hands so you may want to wear disposable kitchen gloves.
My small beet took one hour, and the larger (about the size of my fist) an hour and twenty minutes. The skins peeled off nicely, and I chilled the naked beets in the fridge before slicing them up.
And.. they are delicious! Even with nothing else added. I'm having them on my salad tonight.
Behold, the carnage: