I got a chance to try a new board game last time I was in the Bay Area (thanks, Rachel!), called "Hey! That's My Fish!". You should play this game because it's simple, fast, fun, inexpensive, and can even be played with two people. Or just because it's called Pingvinas in its original language.
I know some people will throttle me for suggesting this, but this game reminded me of my first (and only) few games of Go, because it involves capturing territory, tracking shapes/areas, and cutting people off. Except you get colorful wooden penguins and can play with eight-year-olds.
[I'm going to purge some old post drafts over the next couple of days.]
At the beginning of the summer, I had a spat of illness, including the flu, persistent coughing, and a rash.
Let's talk about the rash, since such things are always so topical. I had pink skin peppered with red bumps on the lower left side of my face, and it was super itchy. So I decided to put some hydrocortisone on it, right?
Apparently not. My tube of cream says "Do not use on the face except if advised by a doctor", which seemed a little mysterious to me. But here's why:
From National electronic Library for Medicines ((Word DOC from NeLM)):
When topical hydrocortisone was approved for over-the-counter sale, the use of a steroid on delicate facial skin was not considered an appropriate indication. Long-term and/or high strength steroids can damage the skin (1,2), and on the face this would be particularly noticeable. These problems have not been demonstrated with short-term OTC hydrocortisone, but form a theoretical basis for caution. In addition to this, some common skin conditions affecting the face can be caused or made worse by hydrocortisone (eg impetigo, rosacea, and acne) (1,2). Therefore all over-the-counter hydrocortisone creams and ointments have "use on the face" as a contra-indication, and pharmacists are not allowed to sell them for this purpose.

Patients with skin conditions affecting the face ought to see their GP first, rather than self-medicating. GPs can prescribe hydrocortisone for use on the face, having first assessed the appropriateness of doing so.
My doctor ended up telling me I could use the over-the-counter stuff on my face, if I only needed it for a few days. ("It's the prescription stuff you really have to worry about.")
In honor of getting to see Benoît Mandelbrot speak yesterday at IBM in Cambridge, and of his mention of the crazy-cool cauliflower/broccoli mix romanesco, I tried to draw a 2-D version of the fractal veggie in Processing. I wanted to project it onto cones, but I just don't have the time right now.
This is a fractal-like thing I made up from Fermat's spiral and discs, which I've been playing around with lately.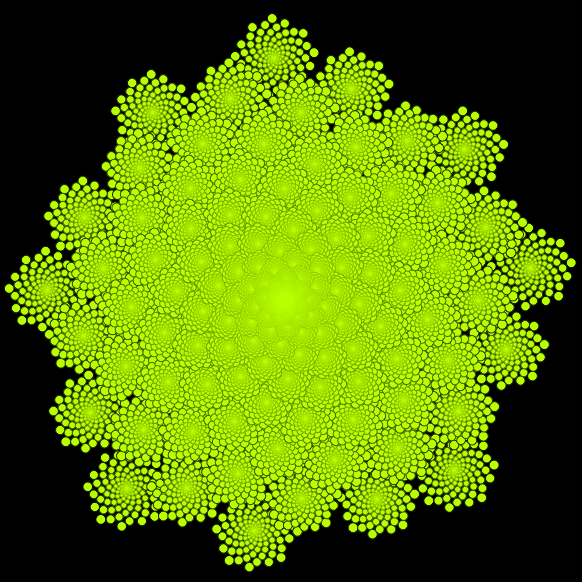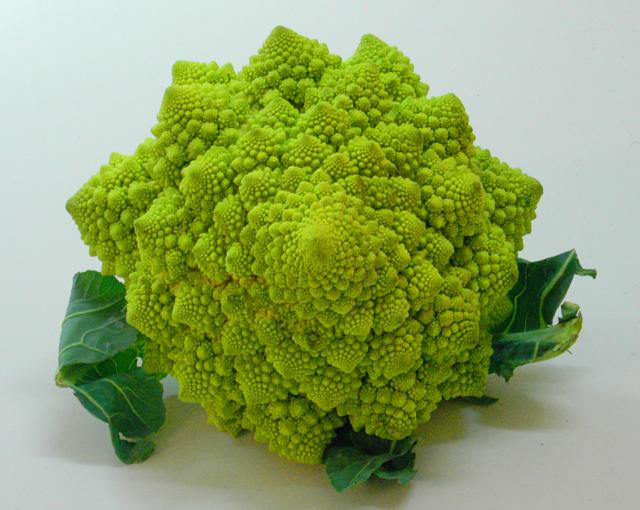 Another really nice photo of romanesco
Nice collection of photos and commentary on romanesco and fractals
I got really lucky today at the MIT Sailing Pavilion. I had gone back to brush up on the skills I'd learned last Sunday, and when I was all done practicing by myself (having narrowly escaped both capsizing on the first turn, and concussion to my head on a jibe), I ran into one of my instructors, who offered to take me out one-on-one, and teach me how to sail upwind.
With some forceful commands and good patience, Bashar taught me how to do these things on my own:
Hiking — leaning way out on the boat towards the wind, to counterbalance the sail being pushed strongly in the opposite direction. It's FUN. The boat heels so much that I could swear we were (intentionally) inches from capsizing. The photo below (by flickr user good_day) shows what it looks like to hike out.
Running — sailing directly (or almost directly) downwind. This felt very relaxing and peaceful, but I am told to watch out for the unexpected jibe.
Close-hauled — trying to sail as directly upwind as you can, by pulling the sail in close and zig-zagging, tacking at ~ 90° angles.
I had tons of fun and even got to sit in the boat while we raced with the Advanced Racing class. My thighs and back are killing me, though, and I might not be able to walk tomorrow. :-D
I went to "Sailing Bootcamp" yesterday at the MIT Sailing Pavilion along the Charles River. I learned about wind, water, boats, and most importantly, what it feels like to pull on a sail and turn a rudder on a Tech Dinghy. My partner and I magically avoided capsizing, and only collided five times with other dinghies in the crowded class. ("Dinghy"!)
We had an easterly breeze on the Charles yesterday, which seemed to pick up and die down very suddenly. I'd never had reason to notice how dramatic those changes can be around here, and I'm excited about the challenge it poses for some future sailing.
Here's my excitable and entertaining instructor, Henry, giving a high-tech demo of wind interacting with a sailboat: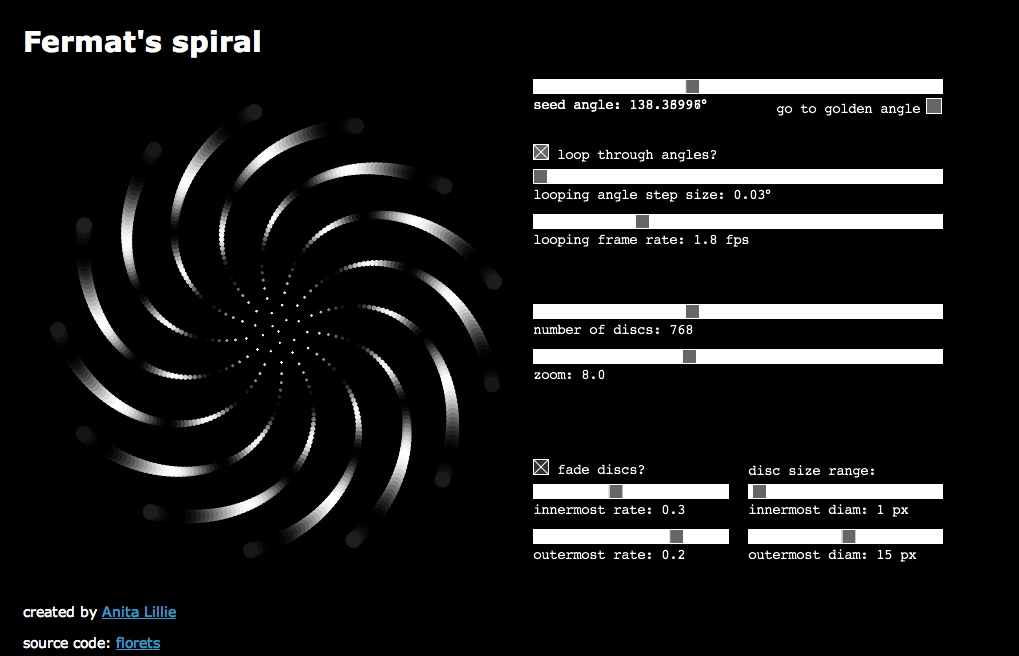 The obsession with the spirals continues… but! It is almost over, for now anyway. I didn't want to put it aside until I had made something I could share with people.
And here is that something. Come play with ze nue applet! Make pretty pictures and hypnotize yourself!
From Wikipedia:

"Omphaloskepsis is the contemplation of one's navel as an aid to meditation."
Apparently people who practice omphaloskepsis have taken Fermat's spiral as their symbol.
Finally went to local music club T.T. the Bear's last night, to see my friend Nick play with his band, On Fire.
Nick is a guy who was playing at places like this almost before he set foot in them as an audience member. He plays electric viola, along with five other band members who play all manner of things (including, from their myspace page, trumpet and "thundertube wizardry"). To give you an idea of what they sound like… from their homepage: "On Fire has been listening to: Starflyer 59, Arcade Fire, Pelican, Low, Unwound, GusGus, Blonde Redhead and more." They sounded great.
Flickr pictures tagged with "ttthebears"
Same pictures, sorted by "most interesting"
It was good to finally see the inside of T.T. the Bear's, which I must have walked past 50 times in the last few months. It's just the perfect size, like a large living room, with pool room and bar attached. Noisy and cozy.
And my big question: Where did the name come from?
On Cantabrigia:
You may have seen a show at T.T. the Bear's, but do you know the story of Tough Teddy? He was the beloved pet teddy bear hamster of owners Bonney Bouley and Miles Cares, who opened their Cambridge club in 1985 and found themselves needing a name — and fast.

"I hate telling this story," said longtime booking agent Randi Millman. "I swear I should make up a story about the name, but there's the truth as I've heard it. God help us."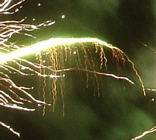 When I uploaded my pictures from this year's Marin County Fair, I looked at close-ups of the firework pictures and was amazed at how organic they looked… just like branches on trees, bushes, long stretches of seaweed, and even anemone and sea urchins.
I cropped a bunch of these and put them up to share: Organic firework pictures (July 4, 2007)
Sharon took me to my new favorite breakfast place in the Boston area on Sunday. We'd been on a (geographically-)challenging mountain bike ride all afternoon, and we were hungry.
I'd suggested earlier in the week that some "breakfast/brunchy food at a local place" would be good, hoping she'd suggest something, and sure enough, in the long list of hand-written directions was "Neighborhood Restaurant".
A: Awesome, Sharon, you even picked a neighborhood restaurant!
S: It's actually called Neighborhood Restaurant. It's in Somerville. My friends have told me it's good…
A: *grin*
I knew the place was good when we parked across the street and were immediately able to sit outside on the patio, which is covered with grape-bearing grapevines, decorated with almost gaudy lawn animals, and a Betty Boop. I recognized the plate on a nearby table as the exact same $1 rainbow plate I have from Shaw's, and none of the other plates around matched it or any other. Down a steep, brightly-colored staircase, through a truly bustling, Hispanic-sounding kitchen ("Is that Spanish?" It was probably Portuguese.), is the bathroom, which had been both carefully painted with pixies and had the "EMPLOYEES MUST WASH HANDS!! AND YOU SHOULD TOO!!" hand-painted directly on the wall in front of the toilet, probably in red paint on a pink background.
#100 on the menu was the first I read: (in loopy handwriting) "Belgian waffle, topped with blueberries, strawberries, and raspberries, and our homemade whipped cream, with two eggs, ham, and homefries, oj + coffee." With a side of fruit or cream of wheat. $10.99
So of course that's what I got, even though I tried to remember the next 7 things I read, for next time.
I didn't have a camera with me, and that's probably best, since I'd make myself way too hungry if I saw what I ate again. But! Just to convey the true quantity of food that I got, I have diagrammed it out in OmniGraffle (wow, what a nice program):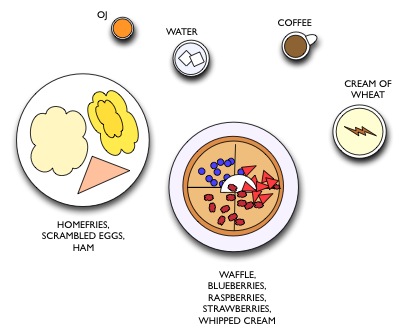 (PDF)
The cream of wheat has cinnamon sprinkled on top, and is as good as the place is famous for. The place doesn't skimp on anything. The ham was juicy, the eggs and potatoes were tasty, the fruit was fresh and plentiful, and the cream was real. Definitely can't wait to go back.
Flickr user sushiesque has some actual photos of the place:
More of sushiesque's photos of the Neighborhood Restaurant