Escalators
Brent may not remember this, but we once wondered how many stories the escalator at the Porter Square T station, Boston's deepest subway station, covers. It's a really long escalator – one of the longest I've ridden.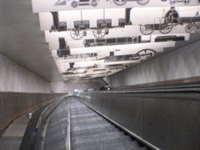 The Wikipedia entry on the Porter station and this article on a scary escalator accident that occurred there both claim that the long escalator out of Porter station is 143 feet long.
I did a few calculations using numbers from the Wikipedia entry on escalators (a surprisingly and wonderfully interesting read), and found that a typical angle of incline for an elevator might be around 27º. This means that the Porter escalator covers about 65 feet in vertical distance, which, depending on how tall you think a "story" is, is somewhere between four stories and 5.5 stories.
(Incidentally, the Porter Square T station has a really cool art piece spread throughout, worth looking out for if you find yourself there.)
Some highlights from the Wikipedia entry on escalators:
"passengers who stand customarily stay on one particular side of the escalator, leaving the other side free for walkers. The proper side for walking does not necessarily correspond with the passing lane in road traffic: passengers stand on the right and walk on the left on the London Underground as well as the Washington, Boston, Hong Kong, Toronto, and Moscow subway systems; but in Singapore and Australia, they stand on the left. In Japan, riders stand on the left in Tokyo but on the right in Osaka."
"For fun, people sometimes use an escalator running in the opposite direction, climbing up or down the stairs faster than it moves. This is forbidden in some places, notably the Paris Métro, where running in the opposite direction can lead to being fined."
Here's a picture Hansie took last December, of me looking at escalator innards at the Harvard Square T stop: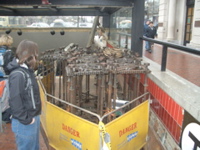 One Comment
Leave a Reply