Good food in Boston
Yesterday was my first relaxing day in a long time (I've been finishing up my semester). It started off with one of the best meals I've ever had, in Boston's North End. My friend John has been telling me all year about a pastry shop there that has biscotti that "could possibly rival your mom's." He's wrong, but! I love pastries, and there was no way I was going to let him move away without first going to Modern Pastry together.
Around noon, we took the T up to the Government Center stop on the Green Line, and wandered up to Hanover Street (check out those nice 3-D buildings on Google Maps). Wandering around, I finally felt I was in a part of Boston with some real personality… people sitting at tables along the streets muttering in Bostonese, big trucks parked in very narrow roads with people busily unloading food-related items, cops on horseback…
I could go on but I'm just going to cut to the chase and talk about the food. We just wandered into a restaurant that looked nice and cozy, called Trattoria il Panino. When the waitress told me the special was a risotto with artichoke hearts, truffles, and buffalo mozzarella, there really was no way I was not going to order it. Here it is: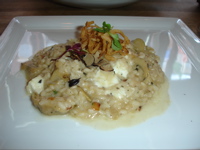 Amazingly delicious. Just thinking about it now makes my leg twitch. So creamy, the artichokes were cooked perfectly, and the flavor of the truffles and the crunch of the onions… omfg. I think that perhaps they have some very handsome children in the back, crying three tears into every serving. And, only $15! ("Maybe I really could eat this every single day.")
On an infinitely less important note, John got a crab with linguini in it, and extra utensils: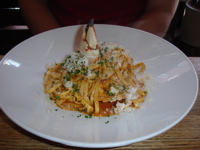 Dessert was, as promised, at Modern Pastry. I asked what was the most popular dessert, and the girl immediately said "cannoli". So I got a chocolate-dipped one with sugar on top. It was tasty, and my fingers smelled awesome all day after that.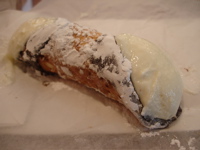 3 Comments
Sharon replied:


You were, unfortunately, led astray at Modern Pastry… Sure, the cannoli are good, but the real best thing there are the amaretti. Might have to go back there again soon!

May 26th, 2007 at 9:43 am. Permalink.

rob replied:


Il Panino is a small chain throughout Boston. There are more ethnic places to eat around Hanover St.

June 6th, 2007 at 12:34 pm. Permalink.
Leave a Reply