It can't be… beet!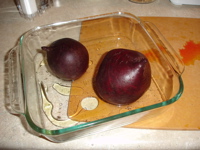 I just cooked beets for the first time. I've been wanting to cook them myself ever since I walked into my friend Deborah's house a year ago and saw them boiling on the stove. It seemed so incredibly organic and healthy. So, yesterday in Whole Foods, I picked up a couple of firm, (slightly) muddy beets, and decided to have at it.
I baked/steamed them with a little water, olive oil, salt, and pepper, as described on the Whole Foods website:
Roasting beets concentrates the flavor and retains nutrients. For dry roasting, wrap individually in foil and bake at 375°F to 400°F for 45 to 90 minutes depending on size. Alternatively, place beets in a baking pan with a little oil, salt and pepper, add 1/4 to 1/2 inch of water in the bottom of the pan and cover the pan with foil. When done, a knife or fork should be able to pierce them with little or no resistance. Allow them to cool and peel off the skins by rubbing with a paper towel. Beet juice can stain your hands so you may want to wear disposable kitchen gloves.
My small beet took one hour, and the larger (about the size of my fist) an hour and twenty minutes. The skins peeled off nicely, and I chilled the naked beets in the fridge before slicing them up.
And.. they are delicious! Even with nothing else added. I'm having them on my salad tonight.
Behold, the carnage:
One Comment
Leave a Reply