Mapping your world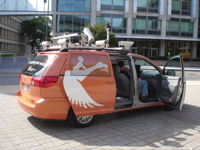 Tele Atlas held a workshop at the Media Lab today, and I got to go on a ride in one of their "mobile mapping vans". They drive up and down the streets of major cities and highways in this van, which is equipped with several cameras and laser range-finders on the roof, with a GPS receiver and a rack of memory on the inside. Tele Atlas uses the imagery and distance data to help enhance and texture their new 3D maps, which nicely represent the shapes and appearance of the buildings along the streets.
I climbed in next to the rack, in the only back seat, while my two friendly mapper-driver-dudes took me on a 5-minute ride around MIT, so that I could see the cameras in action. They have cameras on the roof, pointing to either side of the van, and two angled up at about 45º to get snapshots of taller buildings. They also have a "spherical" camera called a Ladybug, which has five cameras arranged in a ring, in a red housing. On either side of the roof are laser range-finders that map out the building layouts and shape as viewed from the road. (I love that the laser manufacturer is named SICK, and that they display this proudly on their devices.)
The guy in the passenger seat looks at maps and camera feeds on a pole-mounted laptop next to the seat, adjusting apertures and directing the driver to roads they have not yet covered. He'll also mark a road if it's under construction or one-way.
It seems slow-going; the van can't take measurements if it travels above 33 mph. This guy's been working with his partner to map Boston and Cambridge since the beginning of August. They'll finish in the next week or two, and then move on to another city. I asked him how long it takes to map an area, and he tells me, "It depends on the traffic… Yesterday it was really bad in the Back Bay and Brookline, so we only covered about 75 kilometers in 6 hours." On a good day, his best, they covered 170 km (106 mi).
Let the geo-nerditry commence!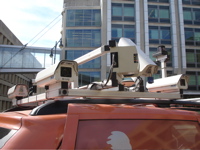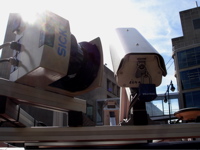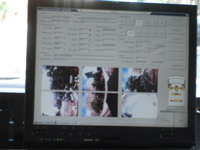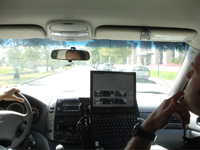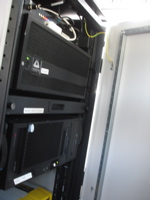 One Comment
Leave a Reply